Fiduciary Controls Framework


Automating the Fiduciary Role
Federal law establishes strict standards for organizations that sponsor ERISA qualified retirement plans. The manual work involved in complying with ERISA fiduciary duty is a cost drain on most human resource departments. Many CFOs and human resource executives have sought ways to cut that cost.
At the same time, recent Department of Labor inspection audits are noting various deficiencies that are present in a large number of retirement plans, regardless of size. The most serious deficiency is the lack of evidence of compliance with ERISA's process standard, especially in the areas of fiduciary controls, vendor management, and payroll reconciliation.
Fix it with Automation
Current regulatory trends and a growing number of class action lawsuits place a premium on having the best governance, risk management, and compliance ("GRC") system. Automation can dramatically increase cost efficiencies and remove the guess work about ERISA's fiduciary rules, with additional fringe benefits including:
Reduced workload on human resources personnel;
Streamlined annual CPA audit process;
Improved workflows;
Peace of mind.
Why FiduciaryGRC is the solution
FiduciaryGRC is a comprehensive answer for CFOs and human resource executives that are looking to save time, money, and control their risk.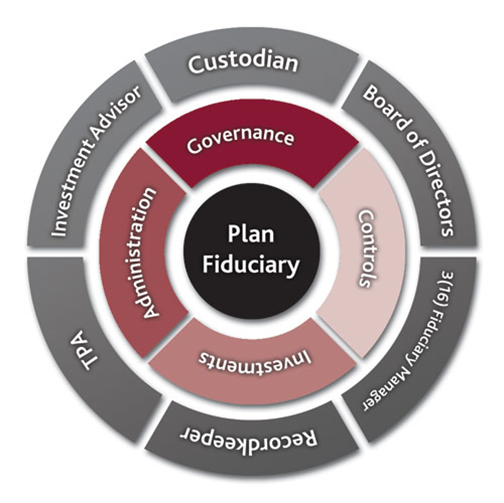 Highlights of FiduciaryGRC…
Cloud based SaaS technology with advanced controls;
A systematic approach for managing all four disciplines of fiduciary duty;
Delivers assurance that ERISA's complex fiduciary challenges are met with impeccable evidence of compliance;
Automated workflow ensures alignment with 72 ERISA specific controls;
Detects conflicts of interest;
Prevents excessive spending of employees' retirement assets; and
Increases safety for plan sponsors and their plans' participants.
How to Get Started
Roland|Criss is the premier provider of an integrated governance, risk, and compliance management solution for the ERISA retirement plan market. We believe so strongly in the power of Fiduciary GRC that we accept appointment as an administrative fiduciary. Since we do not provide investment or recordkeeping services, FiduciaryGRC is vendor neutral.

For more information download the brochure about compliance.

FiduciaryGRC is a trademark of Roland|Criss Fiduciary Services