Investment Firms

Governance, risk management, and compliance needs developed years ago because of inter-dependencies between two key factions: securities industry regulators and investment firms' clients. A third faction, the U.S. Department of Labor, has emerged that demands new policies and procedures for alignment with its Best Interest Conflict Exemption ("BICE").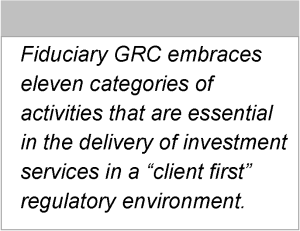 ERISA Based Tools
Management of fiduciary risk is a discipline that requires specific tools that integrate with securities and pension laws, clients, oversight of registered representatives, internal audit, and exceptions handling.
Across-the-Board Controls
For over 20 years, Roland|Criss has provided a complete suite of enterprise governance, risk management, and compliance procedures for organizations that are subject to fiduciary laws. Now, Fiduciary GRC helps investment advisory firms make the needed upgrades to their risk management and compliance programs.
Fast and Efficient Installation
Fiduciary GRC eliminates the long lead time it can take for investment firms to develop procedures on their own, procedures they need in order to compete profitably and safely in the changing retirement plan marketplace. Built with features that can be fully customized, Fiduciary GRC can be adjusted to fit any existing compliance system.
Upgrades are Easy
Fiduciary GRC allows organizations to start with highly specific needs and to expand its support to the entire range of their fiduciary functions. We install Fiduciary GRC and monitor it ongoing, which significantly lightens a compliance department's workload.
Learn More
To learn more about our investment firm focused GRC solution or to schedule a demonstration, contact us online here or by phone at (800) 440-3457.