Videos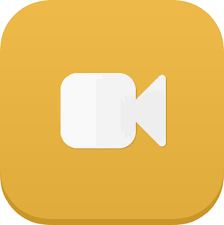 Explore Roland|Criss' video library…
---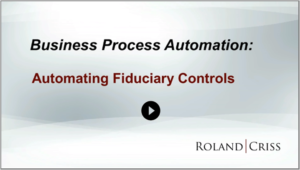 Intensifying regulation that's focusing on how things are done, rather than just the results, has led commercial and nonprofit businesses to seek digital solutions to fiduciary compliance challenges. This video describes an answer for all size ERISA qualified plans.
Process automation clears the confusion about fiduciary duty and provides a powerful way to enjoy the benefits of a tailored governance, risk management, and compliance system.
---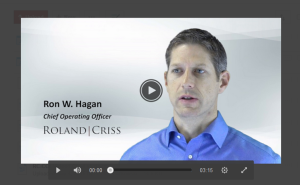 Regulatory changes over the years have deeply affected the management of corporate retirement plans. With each major change, the challenge of satisfying the rules becomes more complex for chief financial officers and human resource executives. A new Conflict of Interest rule has major implications for all ERISA plans. How will it affect your fiduciary practices?
Responsible plan fiduciaries will need to confirm that their plans' investment consultants comply with the Best Interest Contract Exemption rule and will need guidance from a competent ERISA goveranance, risk management, and compliance ("GRC") source.
---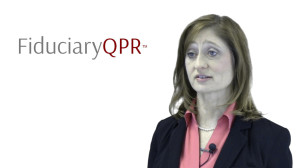 FiduciaryQPR is a standards based comprehensive ERISA Qualified Plan Review. It adheres to the fiduciary standard for retirement plan administrators in order to ensure authenticity of the results.
A comprehensive review of an ERISA qualified plan from Roland|Criss includes a rating that tells how well the plan is aligned with all four disciplines of fiduciary duty.
---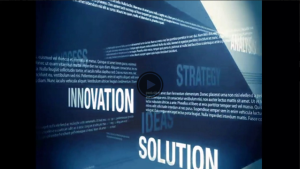 Retirement plan sponsors have been hit by vendors with a wave of sales activity for so-called "3(16) services." Hidden behind a veil of authenticity, most vendors' programs are anything but authentic.
Traits of an authentic 3(16) Plan Administrator
---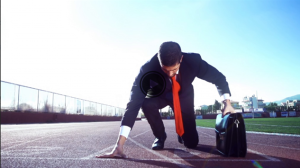 Ensuring that the 3(16) Plan Administrator role is performed by a qualified authentic provider is the next innovation being introduced by investment advisors to their retirement plan clients.
Our ERISA 3(16) Plan Administrator Partner Program
---