Partners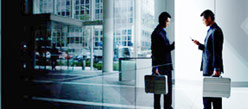 Roland|Criss developed its business model on the foundation of value-added partnerships. Partnerships highlight strengths and enable each one to focus on what they do best…yielding results that exceed clients' expectations.
We offer our Fiduciary GRC™ program to CPAs, recordkeepers, and investment consultants.
Fiduciary GRC Partner Program
Our technology-driven Fiduciary GRC™ solution drives successful retirement plan management by identifying risk exposures, upgrading management systems, monitoring service provider activities, and guiding fiduciary correctness. Fiduciary GRC may be delivered in a private label arrangement with the partner organization.
Our partners experience the following benefits:
Our independence…
from offering competing or conflicting services has enabled us to develop back-office relationships with investment consultants, recordkeepers, third party administrators, and Investment Managers.
Our perspective…
in the industry enables us to be a trusted advisor to trade associations and member organizations seeking to raise the standard of excellence from among their members, and within the industry at large.
Our market-tested, turnkey solutions…
provide credibility and the ability to communicate and deliver value to our partners' clients.
We invite you to consider how Roland|Criss can help you fulfill your organization's goals. For a preliminary discussion of how we serve as a trusted partner with Advisors, Recordkeepers, CPA's, and Attorneys, please contact us.

Fiduciary GRC is a trademark of Roland|Criss Fiduciary Services