Vendor Value Index
Managing service providers under federal law is a challenge for retirement plan sponsors

Hiring and managing investment and administration vendors for retirement plans and foundations is complex and risky. Complex due to confusing jargon and interlocking vendors. Risky because buyers are at a major information disadvantage.
Vendors are specialists in the design of their products, services, and compensation arrangements. Executives that buy from these vendors do not have the vendors' degree of specialization. The result? Vendors have a critical information advantage over their clients.
The information advantage is the root cause for excessive fees. Retirement plan participants and donors to charities suffer from these excesses in the form of sub-par investment returns. But now, executives that tolerate excessive fee arrangements are at risk, too.
Risk Potential
By applying forensic analysis, Roland|Criss developed a way to uncover and document excessive fees …the Vendor Value Index™. It covers all service provider types in both the retirement plan and foundation communities. Here is an example of how it looks…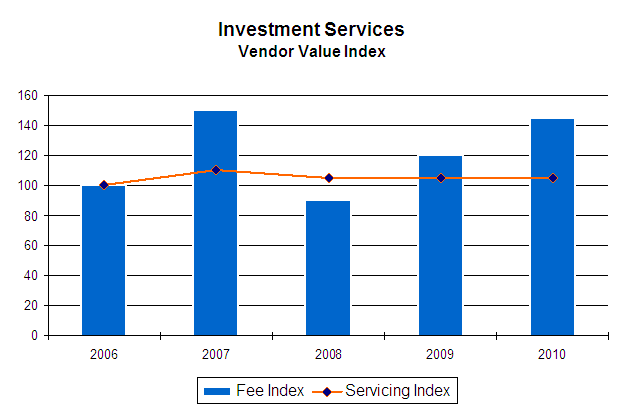 A Customized Resource
The Vendor Value Index succeeds where mere fee benchmarking fails.
Unbiased and impartial analysis.
Exposes wrong pricing structures and shows how to correct them.
Converts hard to evaluate services into financial values.
Makes apples-to-apples comparisons of vendors a reality.
Eliminates confusing retirement plan industry jargon.
Complies with the new ERISA 408(b)(2) fee disclosure rule.
Satisfies UPMIFA's test for excessive fees.
Customized to take into account every detail.
Not a boiler plate report produced by an agent for a vendor.
Includes investment managers, mutual funds, investment advisors, third party administrators, recordkeepers, and custodians.
Learn if your vendors' fees are reasonable
The Vendor Value Index is increasingly recognized by chief financial officers as the premier indicator of proper pricing for investment and administration services. It avoids the expense of an RFP. The Index is customized and released on a regular recurring schedule that accommodates the needs of each client.
Contact us to get your customized Vendor Value Index report.